On-Site Laboratory and Pharmacy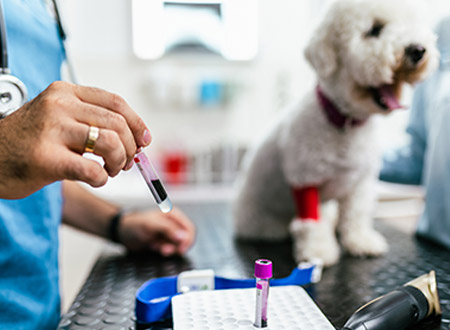 On-site Laboratory
The benefits of an on-site laboratory mean we can conduct parasite testing, blood work and urinalysis and receive your pet's results within hours. A fast diagnosis allows us to treat the issue promptly.
Understanding your pet's blood work
Blood tests help us determine the causes of illness accurately, safely, and quickly and let us monitor the progress of medical treatments. Blood testing is often recommended as it helps the veterinarian diagnose and treat different conditions, such as parasites, allergies, diabetes and kidney failure. A common blood test is called a CBC (complete blood count), which helps show the general health of a pet. Our on-site laboratory will give us the information we need quickly to help your pet.
On-site pharmacy
Our on-site pharmacy means you have convenient access to the therapeutic medications your pet needs. We also stock many non-prescriptive specialty products like ear cleaners, face and eye cleaners and more.